~Introducing sports culture from around the world~
"Who do you wanna win?"
It's really the only question on any sports fans' minds this weekend.
You may have heard… or maybe you haven't?
Tomorrow morning China time will be one of the biggest boxing 拳击 quán jī matches in the history of boxing matches.
You can vote for your pick at the end of this article.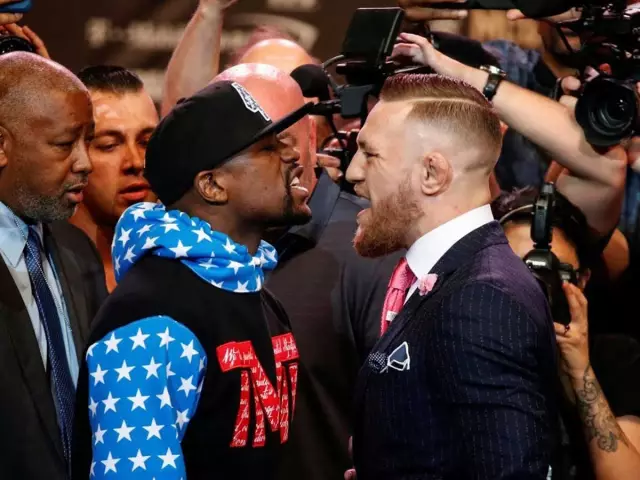 A 40 year old professionally unbeaten US boxing legend, Floyd Mayweather Jr, versus a 29 year old UFC Irish phenom, Conor McGregor…
弗洛伊德·梅威瑟,1977年2月24日出生于美国大急流城,美国职业拳击手,2015年9月13日在拉斯维加斯击败贝托追平传奇拳手马西亚诺生涯49胜0负后正式宣布退役。同年此前世纪大战中以点数完胜帕奎奥也是其辉煌生涯的传奇一笔。
康纳·麦格雷戈,1988年7月14日出生于爱尔兰都柏林,2012年签约UFC羽量级,在UFC 194上仅用13秒便KO了前冠军奥尔多成为了羽量级冠军,随后在UFC 205上第二回合KO击败了阿尔瓦瑞兹成为了UFC史上首位同时拥有两个级别双冠军的唯一人。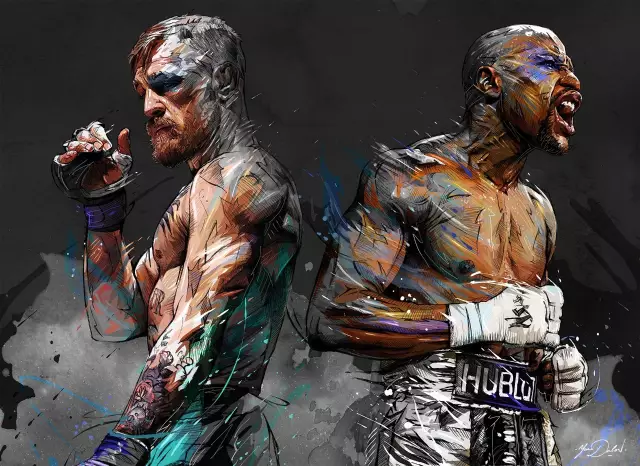 It really could go either way. (But the winner is obvious, no?)
Oh, and there's a guaranteed $130 million USD on the table. Double and triple that if all metrics are reached.
Dubbed "The Money Fight" because in addition to the ridiculously high purse, experts expect that more money will be bet on this fight than any other boxing match on record; estimates range up to $80 million in legit bets.
---
Thanks to PPTV, we can watch this huge pay-per-view event go down in history for free in China!
With 3 easy ways to catch the livestream, none of you should have any struggles finding it… well, some of you will still struggle.
1. Download/Open the PPTV app on your smart TV, phone, or tablet:

2. Copy/Open this link in your browser of choice:
http://ufc.pptv.com/themoneyfight/dpty/index.html
3. Save or Favorite this image or post, then Long Press & Extract the QR code during the match: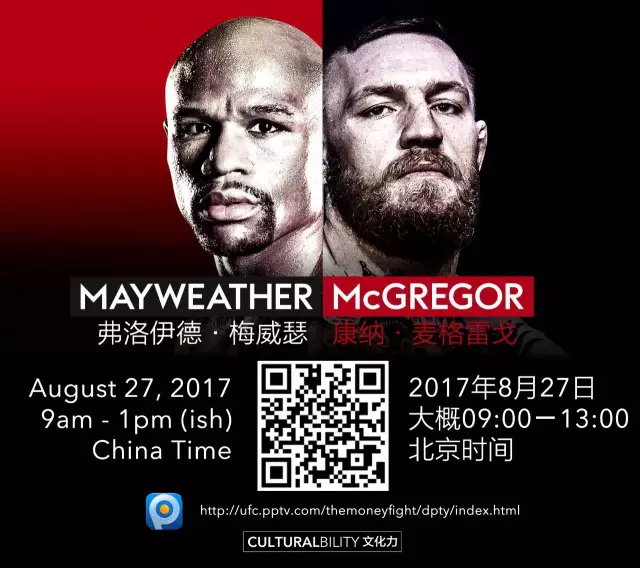 Feel free to share with your friends and let them be a part of sports culture history~
Many restaurants and pubs around the country will also be showing it live…