For the adults, check out this post:
【电视剧】Where to stream foreign TV shows in China (中英字幕)
Ready to run down memory lane? Ready to learn something in the process? Well, here are nine childhood cartoons from the USA… for years, our Saturday mornings included at least one of the following nostalgic animated shows.
Each cartoon's image and QR code can be saved or favorited to your phone for future reference, and extracting the QR code should take you directly to the show.
Some are in English, some are in Chinese – and most have Chinese subtitles! Enjoy~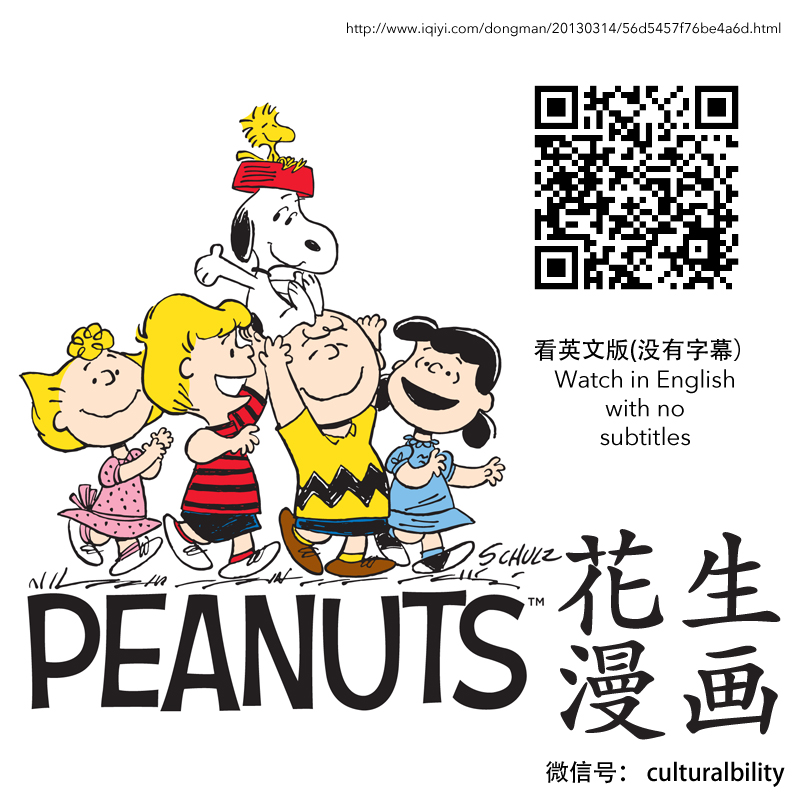 Peanuts
Link: http://www.iqiyi.com/dongman/20130314/56d5457f76be4a6d.html
---
[ˈpiˌnʌtz]
《花生漫画》
huā shēng màn huà 
The Peanuts' TV specials ran almost every holiday on almost every TV station when all of us were growing up… and still do to this day!
Originally a comic strip by Charles Schultz, the animated version of Peanuts differs in some aspects from the strip. In the strip, adult voices are heard, though conversations are usually only depicted from the children's end. To translate this aspect to the animated medium, the sound of a trombone with a solotone mute was used to simulate adult "voices."
A more significant deviation from the strip was the treatment of Snoopy. In the strip, the dog's thoughts are verbalized in thought balloons; in animation, he is typically mute, his thoughts communicated through growls or laughs, and pantomime, or by having human characters verbalizing his thoughts for him.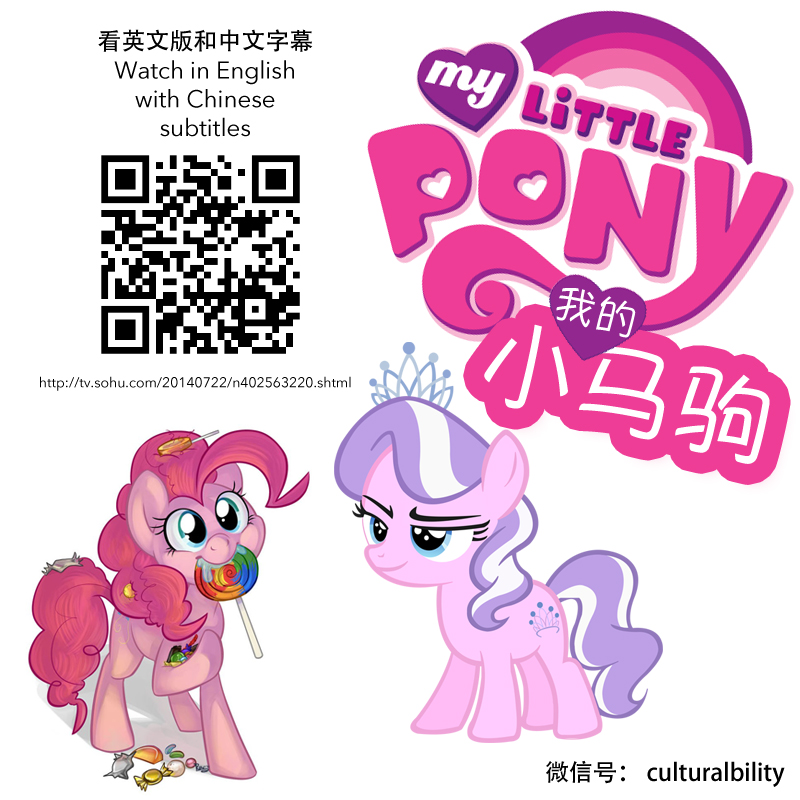 My Little Pony
Link: http://tv.sohu.com/20140722/n402563220.shtml
---
[maɪ 'lɪt(ə)l 'poʊni]
《我的小马驹》
wǒ de xiǎo mǎ jū 
My Little Pony is an entertainment franchise developed by Hasbro and was first produced in 1981. The ponies feature colorful bodies, manes, and a unique symbol on one or both sides of their flanks. My Little Pony has been revamped at least four times with new and more modern looks to appeal to a new market.
Following the original My Pretty Pony toy, introduced in 1981, My Little Pony was launched in 1983 and the line became popular during the 1980s. The original toy line ran from 1983 to 1995, and inspired animated specials, an animated feature-length film, and four animated television series.
Fans of the show who are also bros call themselves "bronies"… be wary of these superfans.
Also, there are multiple names for this show in Chinese, including 我的小马驹, 小马宝莉, 彩虹小马
Garfield
Link: http://www.le.com/ptv/vplay/2115447.html
---
[ˈɡɑrˌfild]
《加菲猫》
jiā fēi māo
Garfield is an American comic strip created by Jim Davis. Published since 1978, it chronicles the life of the title character, the cat Garfield, Jon, his owner, and Jon's dog, Odie. As of 2013, it was syndicated in roughly 2,580 newspapers and journals, and held the Guinness World Record for being the world's most widely syndicated comic strip.
The strip's focus is mostly on the interactions among Garfield, Jon, and Odie, but recurring minor characters appear as well. Garfield has spawned merchandise earning $750 million to $1 billion annually. In addition to the various merchandise and commercial tie-ins, the strip has spawned several animated television specials, two animated television series, two theatrical feature-length live-action/CGI animated films and three fully CGI animated direct-to-video movies. Part of the strip's broad appeal is due to its lack of social or political commentary; though this was Davis's original intention.
Mickey Mouse & Friends
Link: http://tv.sohu.com/20110216/n279365633.shtml
---
['mɪki maʊs ənd frendz]
《米奇与米妮》
mǐ qí yǔ mǐ nī 
Mickey Mouse is a funny animal cartoon character and the official mascot of The Walt Disney Company. He was created by Walt Disney and Ub Iwerks at the Walt Disney Studios in 1928. An anthropomorphic mouse who typically wears red shorts, large yellow shoes, and white gloves, Mickey has become one of the world's most recognizable characters.
Mickey generally appears alongside his girlfriend Minnie Mouse, his pet dog Pluto, his friends Donald Duck, and Goofy, and his nemesis Pete, among others. Though originally characterized as a mischievous antihero, Mickey was rebranded over time as an everyman, usually seen as a flawed, but adventurous hero.
Winnie the Pooh
Link: http://www.le.com/ptv/vplay/1875720.html
---
['wini: ðə pu]
《小熊维尼》
xiǎo xióng wéi ní 
Winnie the Pooh, also called Pooh Bear or just Pooh, is a fictional anthropomorphic teddy bear created by English author A. A. Milne. The first collection of stories about the character was the book Winnie-the-Pooh (1926), and this was followed by The House at Pooh Corner (1928). Milne also included a poem about the bear in the children's verse book When We Were Very Young (1924) and many more in Now We Are Six (1927).
The New Adventures of Winnie the Pooh is an American Saturday morning animated children's television series produced by Walt Disney Television that ran from January 17, 1988 to October 26, 1991.
Supporting characters include Tigger, Rabbit, Eeyore, Piglet, and Roo.
"Sometimes, the smallest things take up the most room in your heart.

有时候占据我们内心最多空间的,往往是那些最细小的事" – Winnie the Pooh
Teenage Mutant Ninja Turtles
Link: http://v.youku.com/v_show/id_XODgyMjkxODEy.html
---
[ˈtinˌeɪdʒ 'mjut(ə)nt 'nɪndʒə ˈtɜr(r)t(ə)lz]
《忍者神龟》
rěn zhě shén guī 
The Teenage Mutant Ninja Turtles (often shortened to TMNT or Ninja Turtles) are four fictional teenaged anthropomorphic turtles named after four Renaissance Italian artists, Leonardo, Michelangelo, Rapheal, and Donatello. They were trained by their anthropomorphic rat sensei, Splinter, in the art of ninjutsu. From their home in sewers of New York City, they battle petty criminals, evil overlords, mutated animals, and alien invaders while attempting to remain hidden from society. They were created by Kevin Eastman and Peter Laird.
The characters originated in comic books published by Mirage Studios before expanding into cartoon series, films, video games, toys, and other general merchandise. During the peak of the franchise's popularity in the late 1980s and early 1990s, it gained worldwide success and fame.
The Smurfs
Link: http://www.le.com/ptv/vplay/1912735.html
---
[ðə smɜː(r)fz]
《蓝精灵》
lán jīng líng 
The Smurfs (also known as simply Smurfs and syndicated as Smurfs' Adventures) is an animated fantasy-comedy television series centered on a fictional colony of small blue humanoids who live in mushroom-shaped houses in the forest.
Produced by Hanna-Barbera Productions, it is based on the Belgian comic series by the same name, created by Belgian cartoonist Peyo (who also served as story supervisor of this adaptation) and aired for 256 episodes with a total of 418 stories, excluding three cliffhanger episodes and seven specials.
There are more than one hundred Smurf characters, and their names are based on adjectives that emphasize their characteristics, such as "Jokey Smurf", who likes to play practical jokes on his fellow smurfs. "Smurfette" was the first female Smurf to be introduced in the series. The Smurfs wear Phrygian caps, which came to represent freedom during the modern era.
Recess
Link: http://www.le.com/ptv/vplay/2266085.html
---
['rises]
《下课后》
xià kè hòu 
Recess is an American animated television series created by Paul Germain and Joe Ansolabehere. The series focuses on six elementary school students and their interaction with other classmates and teachers. The title refers to the period of time during the school day in which children are not in lessons and are outside in the schoolyard, in North American society. During recess, the children form their own society, complete with government and a class structure, set against the backdrop of a regular school.
Recess premiered on ABC on August 31, 1997, as part of the One Saturday Morning block (later known as ABC Kids). Beginning on September 11, 1999, it also began airing on UPN as part of its block, Disney's One Too. The series ended on November 15, 2001, with 65 episodes and six seasons in total. The success and lasting appeal of the series saw it being syndicated to numerous channels, notably Toon Disney, Disney Channel, and Disney XD.
Tom and Jerry
Link: http://www.iqiyi.com/dongman/20130306/c63e309839562754.html?vfm=m_218_hstv
---
[tɑm ənd 'dʒeri]
《猫和老鼠》
māo hé lǎo shǔ 
One of the most-watched cartoons around the world, Tom and Jerry is loved by everyone!
Tom and Jerry is an American animated series of short films created in 1940, by William Hanna and Joseph Barbera. It centers on a rivalry between its two title characters, Tom the cat and Jerry the mouse, and many recurring characters, based around slapstick comedy.
Throughout the years, the term and title Tom and Jerry became practically synonymous with never-ending rivalry, as much as the related "cat and mouse fight" metaphor has. Yet in Tom and Jerry it was not the more powerful Tom who usually came out on top.
And for the adults out there: