Sia. Oh, Sia.
Cheap Thrills is a song taken from her seventh studio album This Is Acting (2016). It was written by both Sia and Greg Kurstin, and produced by Kurstin. Cheap Thrills is a pop song with elements of electropop. The song was originally meant for Rihanna's Anti, however after she turned it down Sia decided to keep it and use it for her own album.
In the UK, Cheap Thrills has reached number two on the UK Singles Chart. In the USA, the song has reached number 13 so far on the Billboard Hot 100, becoming Sia's second highest charting single in the US. The single reached the top 10 of every country it charted excepted four countries.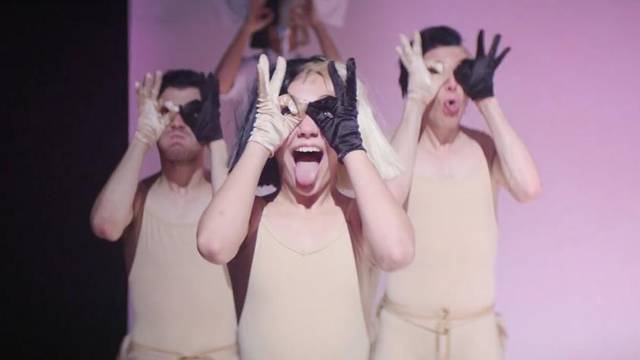 Sia and Daniel Askill directed a performance video featuring Maddie Ziegler dancing with two male dancers to Ryan Heffington's choreography, which was released on March 21, 2016. The three dancers wear beige, with black and blonde hairstyles and gloves in the half-and-half style used in most of Sia's videos for This Is Acting. They dance on a bare stage, with Sia at a rear corner singing into a microphone while wearing a similar bobbed two-toned wig, a large bow and a white dress.
Billboard wrote that "the video features the same type of intense, captivating choreography as some of [Sia's] other work. This time, Ziegler is backed by two other dancers, and the trio seems to blend as one". Teen Vogue said that Ziegler "delivers another powerful performance"…
Let us know what you think:
Cheap Thrills
Lyrics 歌词
---
Come on, come on, turn the radio on
It's Friday night and I won't be long
Gotta do my hair, I put my make up on
It's Friday night and I won't be long
Til I hit the dance floor
Hit the dance floor
I got all I need
No I ain't got cash
No I ain't got cash
But I got you baby
Baby I don't need dollar bills to have fun tonight
(I love cheap thrills)
Baby I don't need dollar bills to have fun tonight
(I love cheap thrills)
But I don't need no money
As long as I can feel the beat
I don't need no money
As long as I keep dancing
Come on, come on, turn the radio on
It's Saturday and I won't be long
Gotta paint my nails, put my high heels on
It's Saturday and I won't be long
Til I hit the dance floor
Hit the dance floor
I got all I need
No I ain't got cash
No I ain't got cash
But I got you baby
Baby I don't need dollar bills to have fun tonight
(I love cheap thrills)
Baby I don't need dollar bills to have fun tonight
(I love cheap thrills)
But I don't need no money
As long as I can feel the beat
I don't need no money
As long as I keep dancing
(I love cheap thrills)
(I love cheap thrills)
I don't need no money
As long as I can feel the beat
I don't need no money
As long as I keep dancing
Baby I don't need dollar bills to have fun tonight
(I love cheap thrills)
Baby I don't need dollar bills to have fun tonight
(I love cheap thrills)
I don't need no money
As long as I can feel the beat
I don't need no money
As long as I keep dancing
La, la, la, la, la, la
(I love cheap thrills)
La, la, la, la, la, la
(I love cheap thrills)
La, la, la, la, la, la
(I love cheap thrills)
La, la, la, la, la
(I love cheap thrills) 
Other Music Related Posts:
---
【MV】Justin Timberlake《Can't Stop The Feeling!》JT跳舞根本停不下来啊😂
【音乐】"We Are Never Getting Back Together" – Who sang it better?
【MV】Watch Beyoncé's entire new visual album《Lemonade》(中英字幕)
RIP The Artist [Eternally] Known As Prince
【音乐】"Hurt" – Who sang it better? 谁唱的更好听?
【音乐】谁唱的《彩虹之上》更好听?"Over The Rainbow" – Who sang it better?
【MV】New! OK GO -《Upside Down & Inside Out》逆天视觉亮瞎你的眼
【美国体育文化】The Super Bowl Halftime Show 超级碗中场秀:堪称美国"春晚"
【音乐】"Make You Feel My Love" – Who sang it better? 谁唱的更好听?
【MV】The National -《I Need My Girl》我需要我的女孩 (中英字幕)
【音乐】"Skinny Love" – Who sang it better? 谁唱的更好听?