A group of college students from Chicago was in China this last week and I asked them what's been happening in 'pop culture' this year… no lie, their first words were,
"What do you think of Hamilton?"
Seeing my "deer in the headlights" look, they made me search for it immediately on QQ Music. After the first song, I was hooked; I recommend you do the same! It's a fascinating look into America's revolutionary immigrant culture. And please don't just wait for the inevitable movie.
If you don't know how to use a Chinese music streaming app, let us know and we'll send you a handy dandy how-to guide~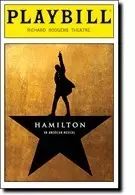 So, what is it? Hamilton《汉密尔顿》音乐剧 is a theatrical musical production about the life of USA's Founding Father Alexander Hamilton, with music, lyrics, and book all written by Lin-Manuel Miranda. The show, inspired by the 2004 biography Alexander Hamilton by historian Ron Chernow, has achieved both critical acclaim and box office success.
The musical made its Off-Broadway debut at The Public Theater in February of 2015, where its engagement was completely sold out and honored with numerous awards.
The show transferred to Broadway (百老汇 bǎi lǎo huì) in August of 2015 at the Richard Rodgers Theatre. On Broadway, it's received enthusiastic critical acclaim and unprecedented advance box office sales. At present, zero tickets are available for the rest of its initial run on Broadway and even it's Midwest tour sold out in less than 15 minutes.
百老汇音乐剧《汉密尔顿》在Richard Rodgers剧院上演时,成为了2015-16季度最抢眼、票最抢手的剧目。因为这部剧是sing-through(从头到尾都是歌曲,类似《悲惨世界》),这部音乐剧严格遵照历史,讲述 Hamilton 政治生涯中的几件大事,他的战友和政敌、他与妻子 Eliza 和长子 Philip 的深厚感情以及他犯下的错误。历史人物 George Washington、Thomas Jefferson & James Madison 等在剧中轮流出场。剧中音乐以Hip-hop为主,穿插了Jazz,R&B, Tin Pan Alley 等多种风格的歌曲。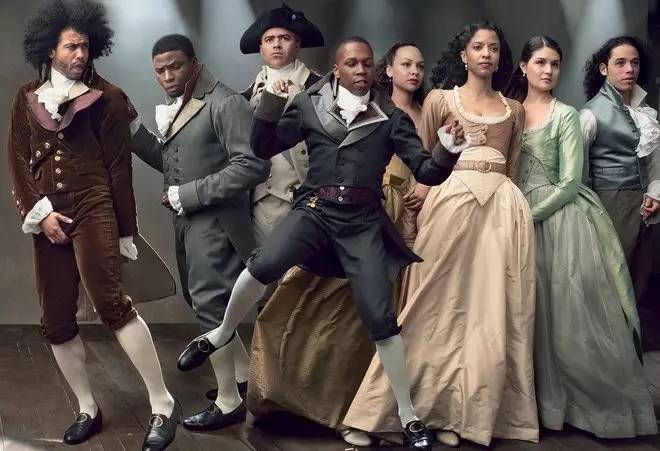 Known for its unique style of rap & hip hop and it's completely diverse cast & crew, it has truly set itself apart from almost any other Broadway show before it.
Earlier this year, it received a Grammy Award for Best Musical Theater Album and the Pulitzer Prize for Drama. And this weekend, it's nominated for a record-setting 16 Tony Awards. You read that right. More nominations than any other play in Broadway history. That's a big deal.
This has obviously become a cultural phenomenon in the US… let's take a closer look and listen.
And thanks to the wonderful pirates and subtitlers at the Wechat account: Musical_Fans, you can even watch a cam version (low quality) of the entire show with both English and Chinese! Or you can listen to the individual songs from the soundtrack below. THANK YOU CHINA!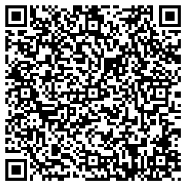 Extract this for Wechat Account: Musical_Fans
~~感谢药不能停字幕组的各位小伙伴们的辛勤劳作~~ 加他们的微信公众号:Musical_Fans
---
[Act 1 第一幕]
Track 1:
---
Remember history class in high school? We all learned at least a little bit about the USA's short history… Washington? Jefferson? Lincoln? Obama? They probably all ring a bell. But how about Hamilton?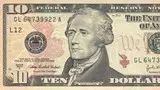 Most of you might know him from the oft-used ten dollar bill. He was also the first Secretary of the Treasury, started the government-backed National Bank, and taxing whiskey was his idea, etc. But that's not how I remember him, though.
In 11th grade, my friend and I were given Hamilton as our final project. We were to give a presentation on the middle-aged man who never became president. Little did we know, the story would enrapture us. You see, *history spoiler alert* Hamilton was mortally wounded in a duel with his political nemesis, then ex-Vice President Aaron Burr.
WHAT!? A duel. With guns.
This would be like if former US Vice President Dick Cheney shot a certain powerful businessman and killed him on national news just because he had said something offensive. Absolutely unimaginable in politics today.
My classmate and I did our best to convey the craziness of his story to our class. They weren't as enthused. We got a B+ on the final. Looking back, we should've just made it into a Broadway musical. Next time!
亚历山大·汉密尔顿(Alexander Hamilton,1757年1月11日 – 1804年7月12日)是美国的开国元勋之一,也是美国的第一任财政部长。出生在加勒比海的小岛、在纽约国王学院接受教育,志愿参军,在独立战争中得到华盛顿赏识成为他的副手,在 Yorktown 战役中领兵对抗英军。建国后他主张建立强大的中央政府和中央军队。他左右了前三届总统的选举。他一手创立的金融机制使美国快速地在战后实现经济繁荣。Hamilton 也是美国第一个传出桃色丑闻的公职人员。49岁时与当时的副总统 Aaron Burr 决斗时放弃开枪机会,次日丧生。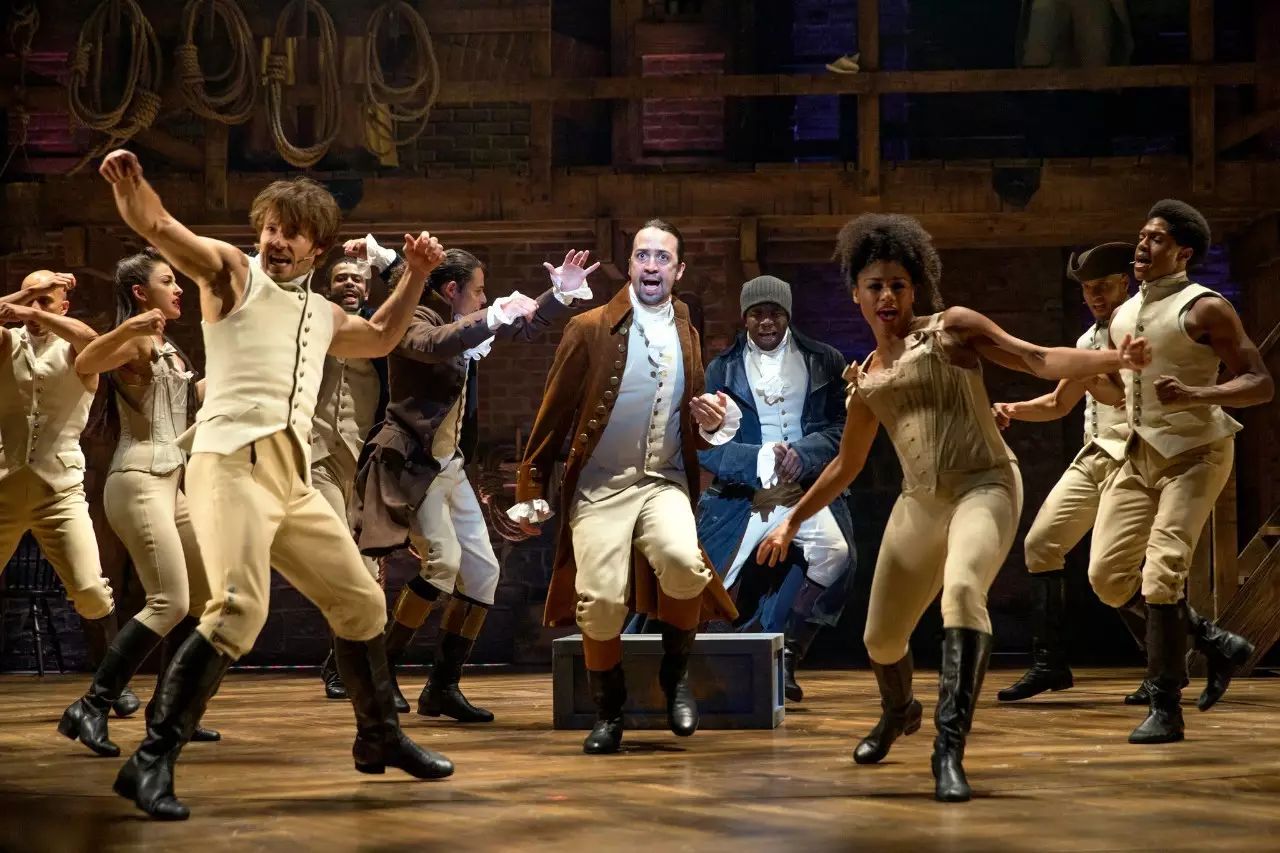 Track 2:
---
Hamilton was born out of wedlock on January 11, 1757, raised in the West Indies, and orphaned at a very young age. Recognized for his strong abilities and keen talent, a group of wealthy men in the community sent him to King's College (now Columbia University) in New York City, where he first meets Aaron Burr.
They don't exactly hit it off.
And throughout the Revolutionary War and the founding of the colonies' new government, Hamilton and Burr keep meeting and keep not hitting it off.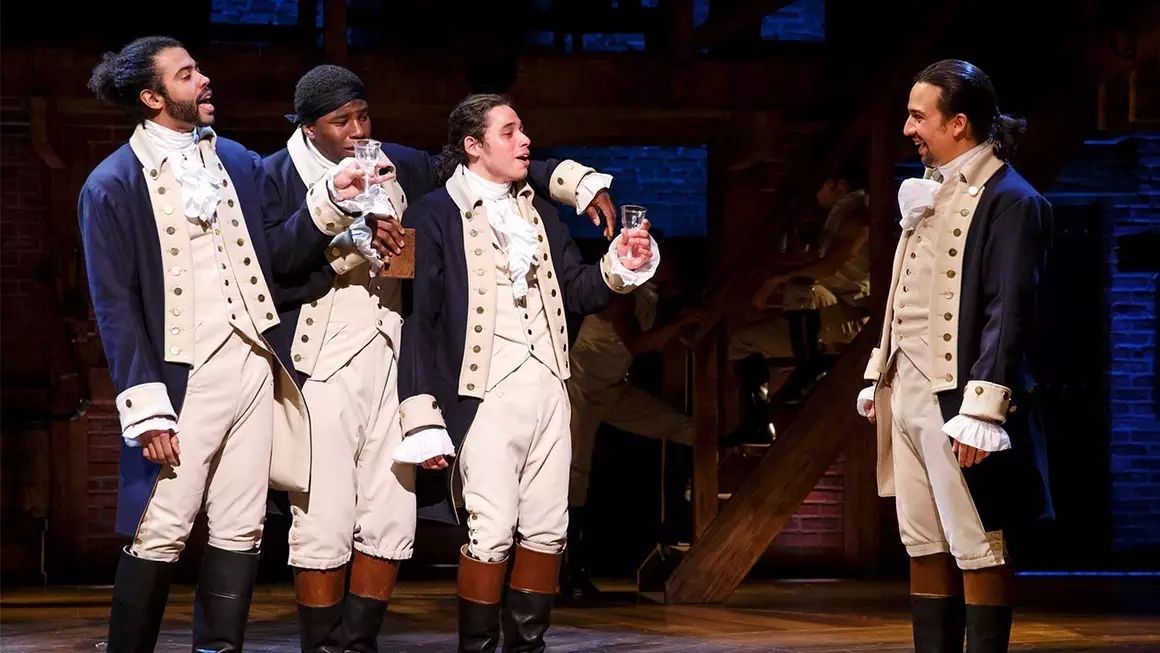 Track 3:
---
Track 4:
---
Track 5:
---
For all the lovebirds out there, this story isn't all just history. Interwoven into the plot is a heartwrenching love story for the ages: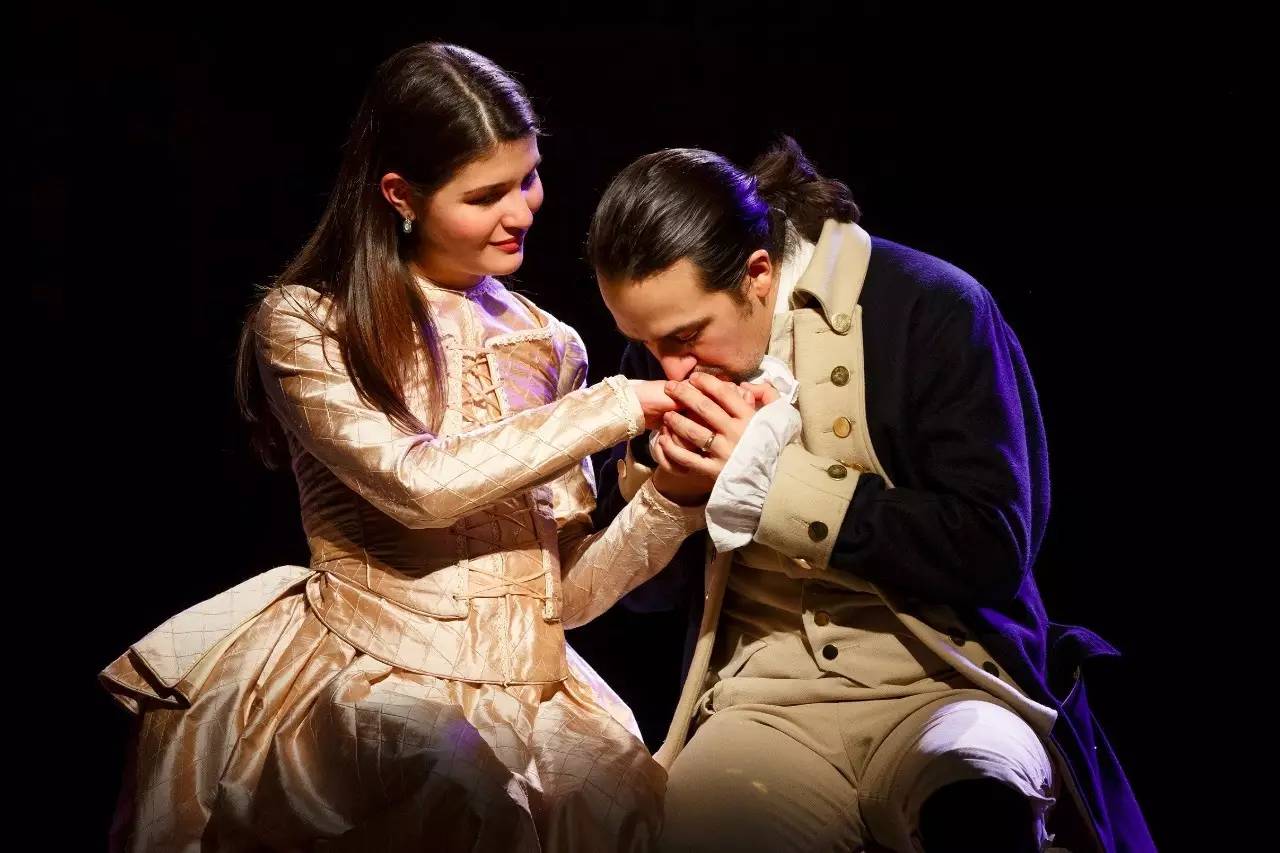 Philip Schuyler, a wealthy landowner in NYC and well-known general from the war had three daughters, Angelica, Elizabeth, and Peggy. They were all looking for love and at least two of them seemed to have a thing for ol' Alexander.
Elizabeth, or "Eliza," eventually wins his heart and they got married on December 14, 1780. Friends with the first First lady, Martha Washington, she had this to say of Eliza,
"She was always my ideal of a true woman."
And she also helped found the first orphanage in New York City. Not too shabby.
Track 6:
---
Track 7:
---
In one of the more classic showtune-type songs in the soundtrack, our British friends will probably love this track the best. A message arrives from King George III in England, reminding the colonists that he is willing and able to fight for their love.
History is so entertaining sometimes. 😂 😂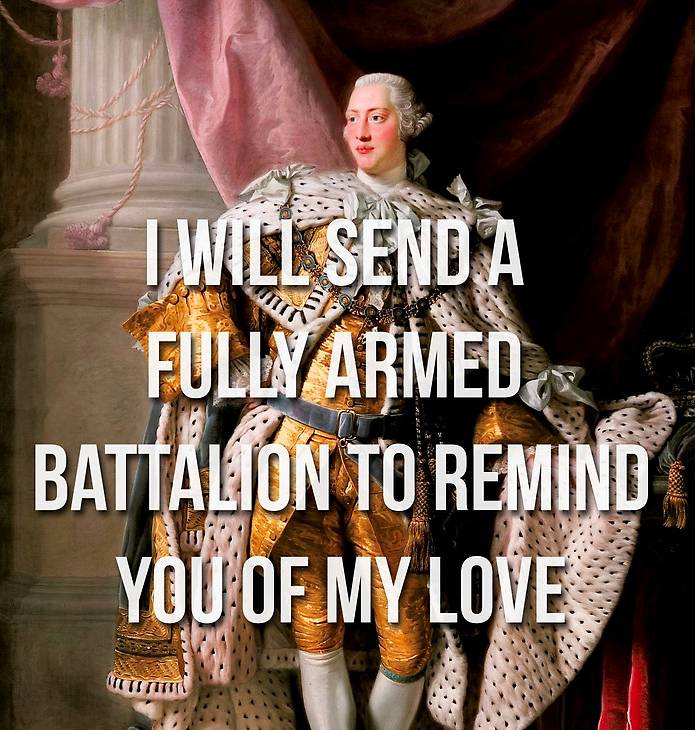 Track 8:
---
Track 9:
---
Track 10:
---
Track 11:
---
Track 12: (Reprise)
---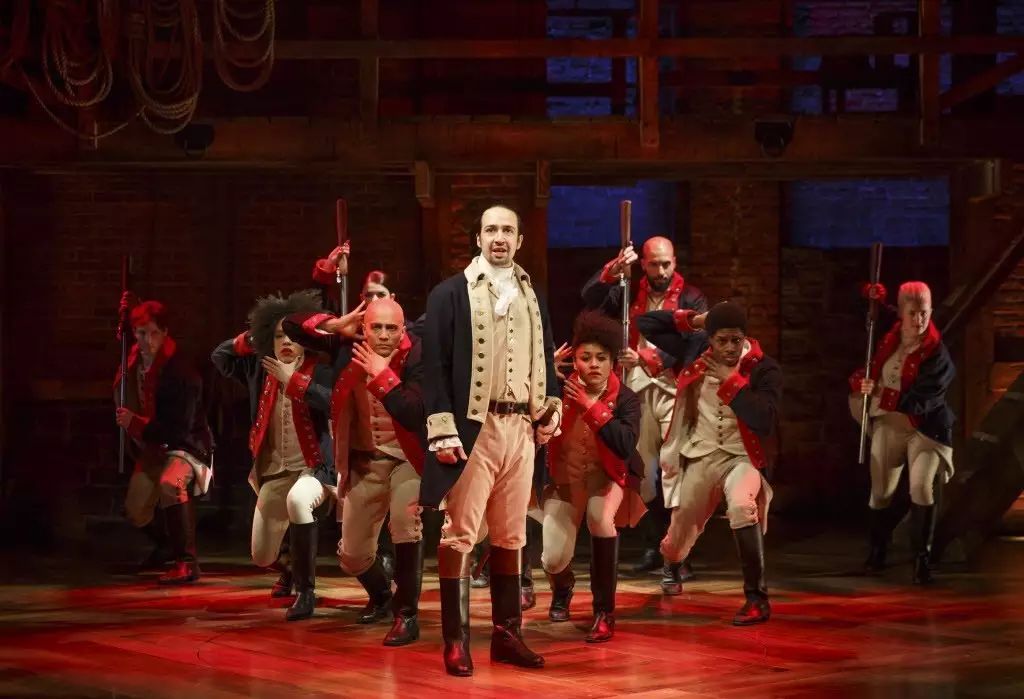 Track 13:
---
Track 14:
---
Track 15:
---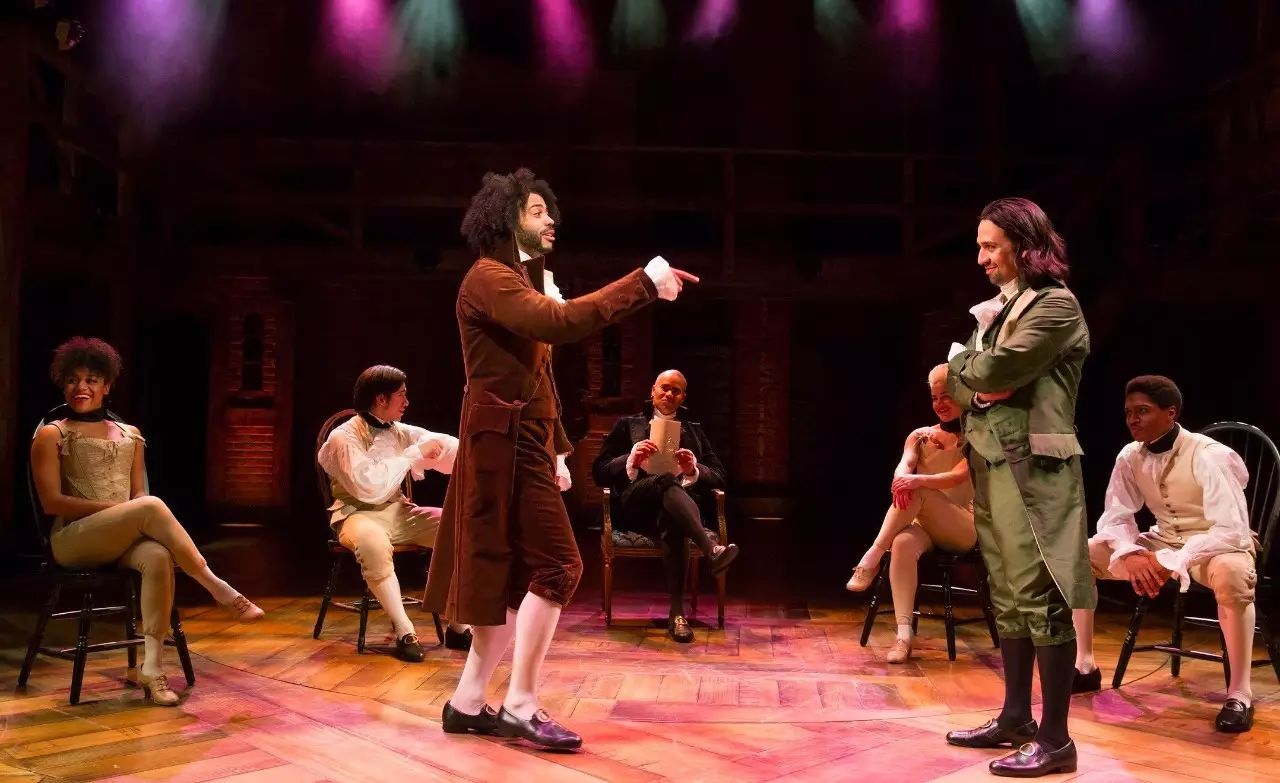 Track 16
---
Track 17:
---
Track 18:
---
Soon after the revolution, Hamilton's son Philip is born, while Burr has a daughter, Theodosia. Hamilton and Burr both return to New York to finish their studies and pursue careers as lawyers.
Burr is in awe of Hamilton's unyielding work ethic and becomes increasingly irritated by his success. Hamilton is chosen as a delegate to the Constitutional Convention in the summer of 1787. Hamilton enlists James Madison and John Jay to write The Federalist Papers after Burr refuses. The newly elected President Washington enlists Hamilton for the job of Treasury Secretary, despite a helpless Eliza's pleas.
Track 19:
---
Track 20:
---
Track 21:
---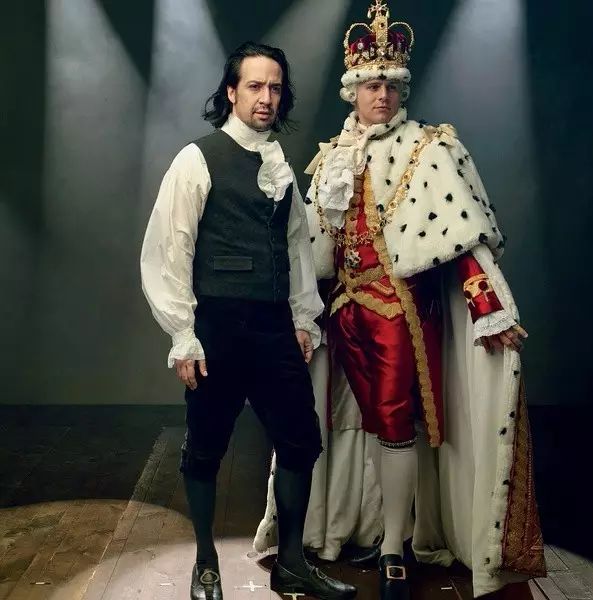 Track 22:
---
Track 23:
---
A scene called 'Tomorrow There'll Be More of Us'
Track 24:
---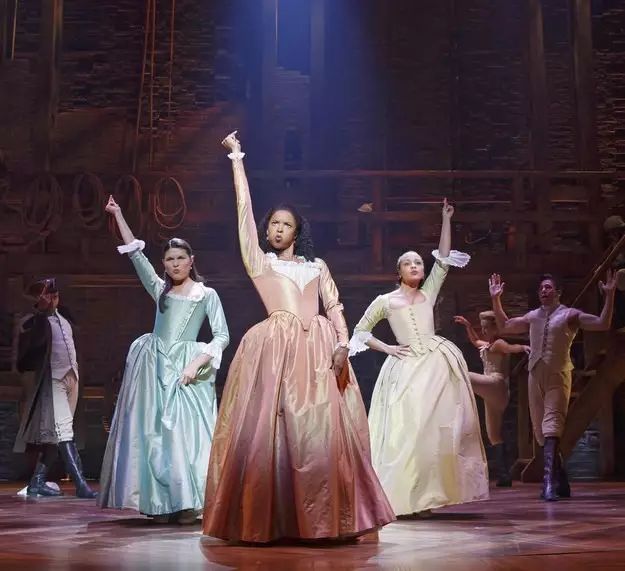 [Act 2 第二幕]
Track 25:
---
Track 26:
---
Track 27:
---
According to an article in The New Yorker, the show is "an achievement of historical and cultural reimagining." The costumes and set reflect the period, with "velvet frock coats and knee britches. The set …is a wooden scaffold against exposed brick; the warm lighting suggests candlelight."
The musical is mostly sung-through, with little dialogue.
Track 28:
---
Track 29:
---
Miranda said that the portrayal of Hamilton, Thomas Jefferson, George Washington, and other Caucasian historical figures by black and Hispanic actors should not require any substantial suspension of disbelief by audience members:
"Our cast looks like America looks now, and that's certainly intentional…It's a way of pulling you into the story and allowing you to leave whatever cultural baggage you have about the founding fathers at the door."
Track 30:
---
Track 31:
---
He also noted "We're telling the story of old, dead white men but we're using actors of color, and that makes the story more immediate and more accessible to a contemporary audience."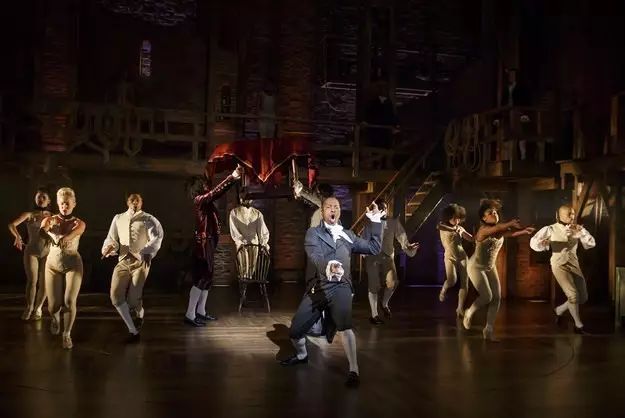 Track 32:
---
Track 33:
---
"Hamilton is a story about America, and the most beautiful thing about it is…it's told by such a diverse cast with a such diverse styles of music," says Renee Elise Goldberry, the actress who plays Angelica Schuyler, "We have the opportunity to reclaim a history that some of us don't necessarily think is our own." The creator insists that all of the Founding Fathers be played by people of color, i.e. non-white and is open to women playing as the Founding Fathers.

Track 34:
---
👆🏽 Another good one by King George…
Track 35:
---
Hamilton's producers have made a pledge to allow 20,000 New York City public high school students from low-income families to get subsidized tickets to see Hamilton on Broadway by reducing their tickets to $70 for students, and the Rockefeller Foundation provided $1.5 million to further lower ticket prices to just $10 per student. The Gilder Lehrman Institute of American History even created a study guide to accompany the student-ticket program.
And finally, here's the list of Tony Award nominations: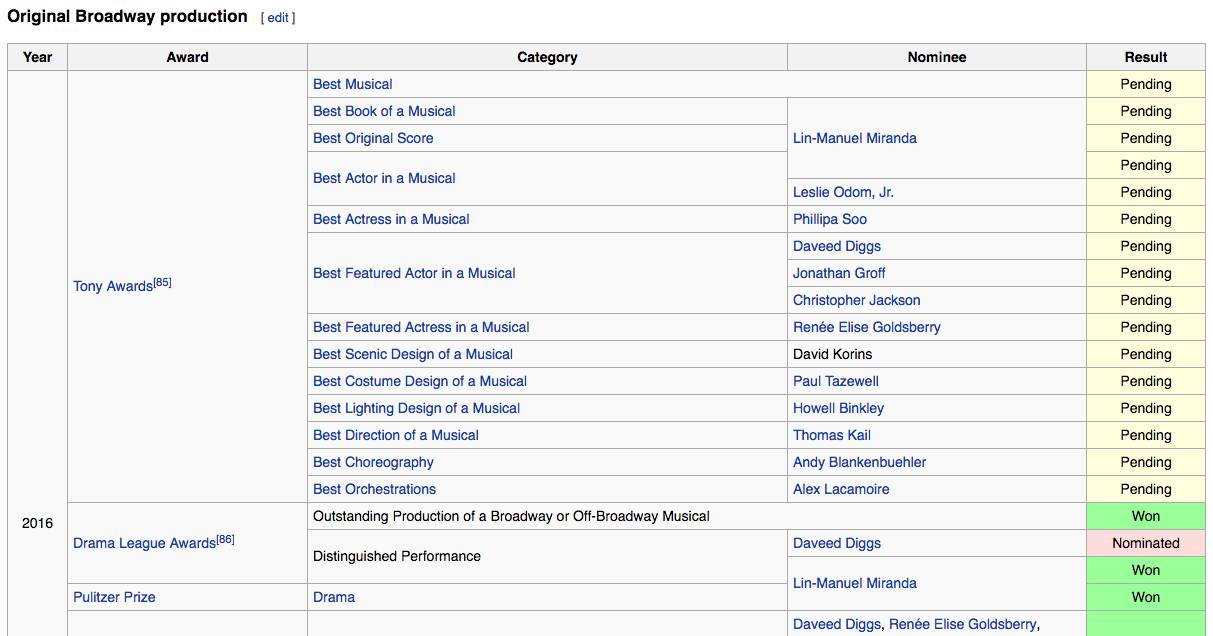 To listen to the rest of the songs, buy and download the soundtrack now!
And check out the Hamilton website by extracting this QR code; if you plan to be in NYC anytime soon, do your best to go see this show!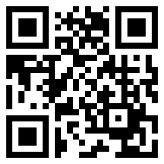 Seriously, I've never seen a group of university students so excited about history before… maybe this is a good sign of things to come~
Other posts you might like:
---
【学习】Emoji English 📚
【学习】Little Free Libraries 小图书馆 免费开放啦!快和你的小伙伴们一起来吧~
【学习】Emoji English 🙅🏻
【学习】How many of these collective nouns do you know?
【听力】This [Chinese] American Life – "In Defense of Ignorance"
【学习】How To Say Punctuation Marks 如何说标点符号
【学习】20 Podcasts to Help Improve Your American English
【学习】Awesome Winter Sports |冬季运动| in English and Chinese
【学习】10 Most Common New Year's Resolutions
【学习】The People Needed to Make a Movie
[学习] 给你的英文词汇量锦上添花 Spice up your English vocabulary!