Hope you're hungry! Today's savory [or sweet] cultural treat comes all the way from central Europe… the oddly-shaped bread affectionately known as the pretzel!
A pretzel 碱水圈 jiǎn shuǐ quān is a type of baked bread product made from dough most commonly twisted into a big knot. Pretzels originated in Europe, possibly among monks in the Early Middle Ages.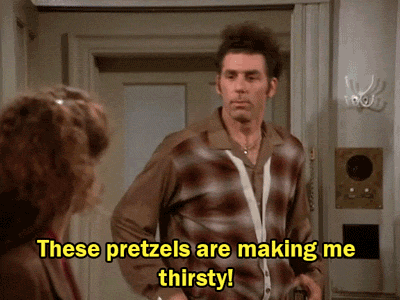 The traditional pretzel shape is a distinctive non-symmetrical form, with the ends of a long strip of dough intertwined and then twisted back into itself in a certain way. In English, we can also call this "a pretzelloop."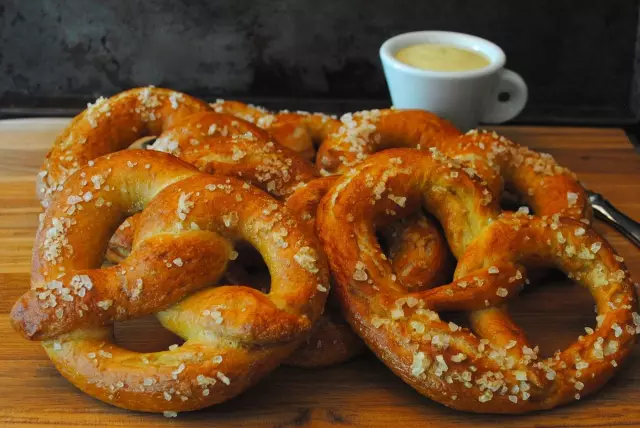 Today, they can come in a range of different shapes and sizes. Salt is the most common seasoning forpretzels, complementing the washing soda or lye treatment that gives pretzels their traditional "skin" and flavor through the Maillard reaction; other seasonings include sugars, chocolate, glazes, seeds, and/or nuts.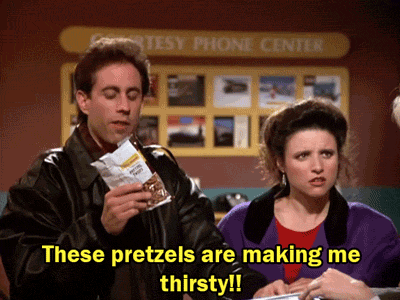 There are several varieties of pretzels, including soft pretzels, which must be eaten shortly after preparation and hard-baked pretzels, which have a long shelf life.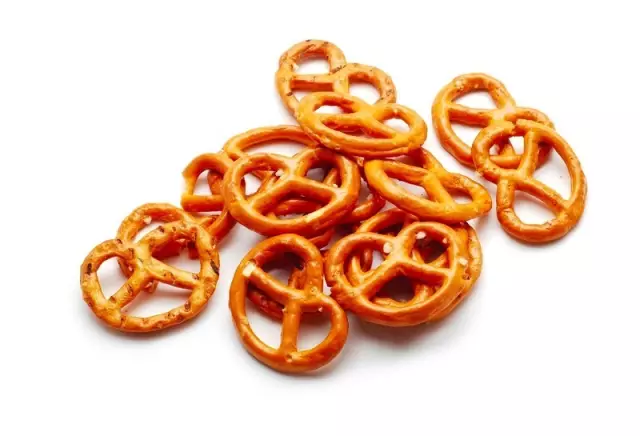 Pretzel baking has most firmly taken root in the modern German states of Bavaria and Baden-Württemberg and adjoining Upper German-speaking areas, and pretzels have been an integral part of German baking traditions for centuries.
Lye pretzels are popular in southern Germany, Alsace, Austria, and German-speaking Switzerland as a variety of bread, a side dish or a snack, and come in many local varieties. Almost every region and even city has its own way of baking them.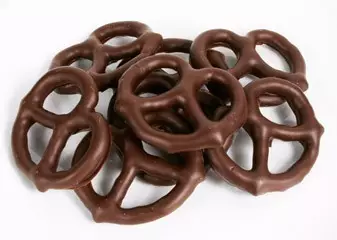 In the late 18th century, southern German and Swiss German immigrants introduced the pretzel to North America. The immigrants became known as the Pennsylvania Dutch, and in time, many handmade pretzelbakeries populated the central Pennsylvania countryside, and the pretzel's popularity spread.
In the 20th century, soft pretzels became popular in other regions of the United States. Cities like Philadelphia, Chicago, and New York became renowned for their soft pretzels.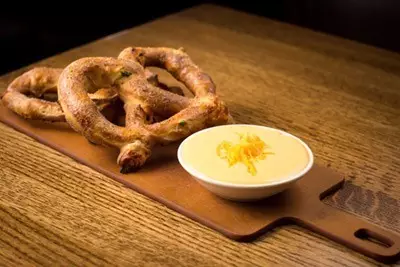 Artisan hipster pretzel
The key to success was the introduction of the new mass production methods of the industrialized age, which increased the availability and quantity, and the opening up of multiple points of distribution at schools, convenience and grocery stores, and entertainment venues such as movie theaters, arenas, concert halls, and sport stadiums.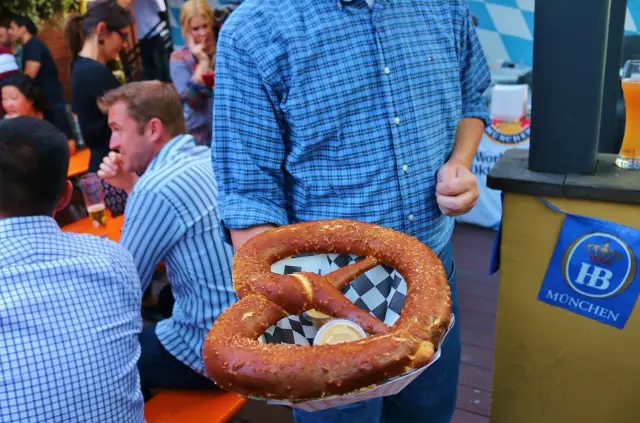 That's one huge pretzel. Want.
The pretzel has become an element in popular culture, both as a food staple, and its unique knotted twist shape which has inspired ideas, perspectives, attitudes, memes, images, and other phenomena.
Although historically, the pretzel has influenced culture, it has recently been even more heavily influenced by mass media as you can see in these wonderful Seinfeld GIFs.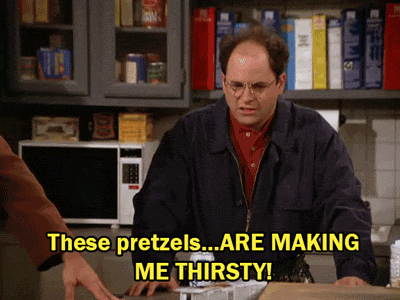 How to make

Pretzels
Basic Ingredients:
---
4 teaspoons active dry yeast
1 teaspoon white sugar
1 1/4 cups warm water (110 degrees F/45 degrees C)
5 cups all-purpose flour
1/2 cup white sugar
1 1/2 teaspoons salt
1 tablespoon vegetable oil
1/2 cup baking soda 4 cups hot water
1/4 cup kosher salt, for topping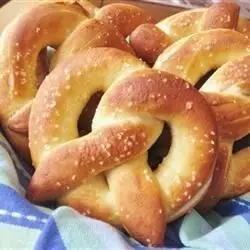 Hopefully they'll look something like this~
Instructions:
---
In a small bowl, dissolve yeast and 1 teaspoon sugar in 1 1/4 cup warm water. Let stand until creamy, about 10 minutes.
In a large bowl, mix together flour, 1/2 cup sugar, and salt. Make a well in the center; add the oil and yeast mixture. Mix and form into a dough. If the mixture is dry, add one or two more tablespoons of water. Knead the dough until smooth, about 7 to 8 minutes. Lightly oil a large bowl, place the dough in the bowl, and turn to coat with oil. Cover with plastic wrap and let rise in a warm place until doubled in size, about 1 hour.
Preheat oven to 450 degrees F (230 degrees C). Grease 2 baking sheets.
In a large bowl, dissolve baking soda in 4 cups hot water; set aside. When risen, turn dough out onto a lightly floured surface and divide into 12 equal pieces. Roll each piece into a rope and twist into a pretzel shape. Once all of the dough is shaped, dip each pretzel into the baking soda-hot water solution and place pretzels on baking sheets. Sprinkle with kosher salt.
Bake in preheated oven until browned, about 8 minutes.
Video:
---
Don't feel like making them yourself?
We have great news! Yes, you can even find fresh soft German-style pretzels here in China… and no, we're not talking about buying from rando Taobao.

A chain known as Le Crobag has opened up a couple shops in the beautiful city of Tianjin: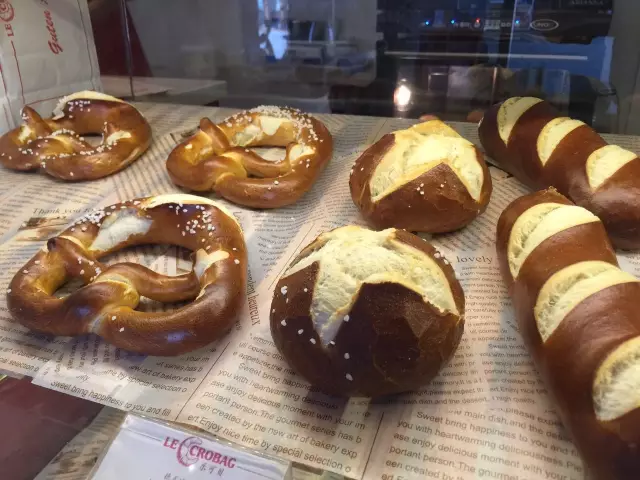 Actual photo! 😍 😍
They can deliver all over Beijing/Tianjin within a day and they're also open to express delivery around the country if your order is sufficient enough.
Add Linda (who speaks English) to order some pretzels now: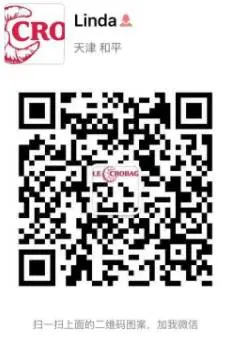 ---
Send your recipes and your creation photos to our foodie group!
We promise not to get too thirsty…
And one more thing: how do you prefer your pretzel?
Other posts about Food:
---
🌽🐶 Foods of the World: Corn Dogs
【世界美食】Foods of the World: Pop-Tarts 我们童年的回忆-糖霜馅饼
【世界美食】Foods of the World: Grilled Cheese Sandwich 烤芝士三明治有妈妈的味道
【世界美食】Foods of the World: Waffles 比利时华夫
【世界美食】Foods of the World: S'Mores 美国烤棉花糖:斯摩司
【世界美食】Foods of the World: Tacos al Pastor 墨西哥菠萝猪肉塔可
【世界美食】Foods of the World: Haluhalo 菲律宾刨冰
【世界美食】Foods of the World: Dürüm 土耳其烤肉卷
【世界美食】Foods of the World: Jucy Lucy 肉有芝士,美味加倍的超级(肥)汉堡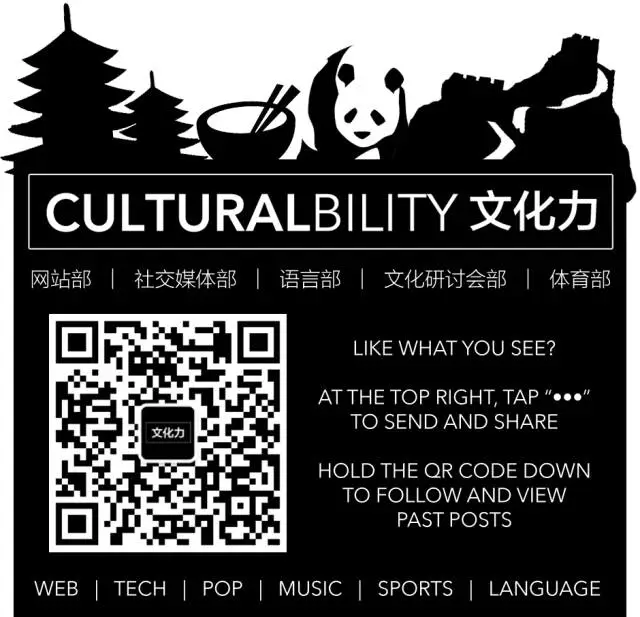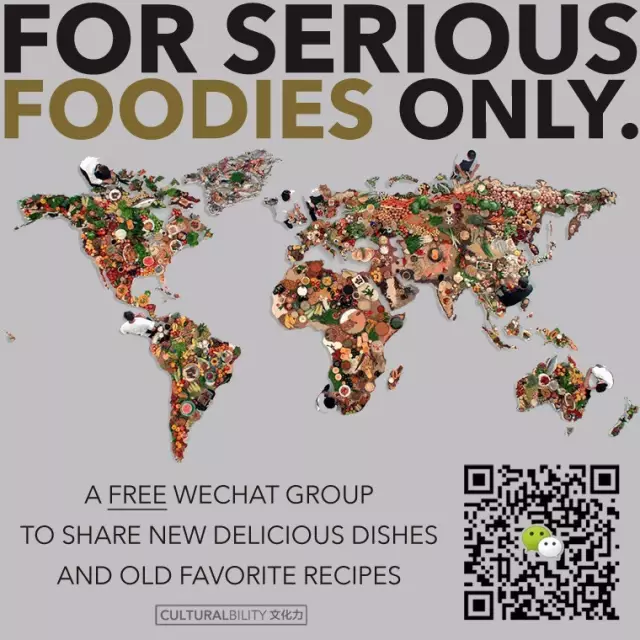 👇🏽 Go to "Read more" to view on the web and share on social media~