What's rectangular in shape, delicious to eat both cold and warm, and has fruit in it so it's healthy? Pop-Tarts, of course!
Pop-Tarts are a brand of pre-baked, convenience food toaster pastries that the Kellogg Company introduced way back in 1964. Pop-Tarts have a sugary filling sealed inside two layers of rectangular, thin pastry crust. Most varieties are also frosted. Although sold pre-cooked, they are designed to be warmed inside a toaster or microwave oven.
And if you didn't sense our sarcasm, they are not even healthy one little bit. God bless 'murica.
1964 was a good year

Being Kellogg's most popular brand to date in the Unit2ed States, Pop-Tarts sells millions of units each year. They are distributed mainly in the USA, but also in Canada, Finland, Australia, the United Kingdom, Ireland, and New Zealand.
Can you find them in China? Yes! But only occasionally at your local import store. And for about twice the normal price. Completely worth it.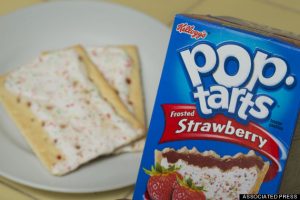 Pop-Tarts are produced in dozens of flavors, plus various one-time, seasonal, and "limited edition" flavors that appear for a short time. But to be honest, the only truly delicious flavor are the Frosted Strawberry ones.
And if you grew up in the US, these lovable pastries have not only infiltrated the grocery aisles in your nearest supermarket, they've also infiltrated pop culture. Jokes are oft made at the Pop-Tarts expense, citing how unhealthy they are and how they lack any trace of nutrition… yet we still keep eating them.
But it's really not a mystery whatsoever. They're freakin' amazing.

Hawkeye needs his pop tart!
Numerous TV series and movies make mention of this snack we highly recommend buying some for yourself to see what all the fuss is about or you could try baking some at home.
How to Bake Homemade Strawberry Pop-Tarts
http://www.biggerbolderbaking.com/homemade-pop-tarts/
(Video Below)

Ingredients
---
2 ⅔ Cup (375g/12oz) plain flour
¾ cup (200g/6 ½ oz) cold butter, cubed
2 Tbsp icing sugar
2 egg yolk
4 Tbsp water
generous pinch of salt
Egg wash (egg yolk mixed with water)
Strawberry Jam
¼ cup (2oz/60g) Icing sugar
½ tsp vanilla extract
water (just enough to make a thick icing)
Sprinkles
Instructions
---
Put the flour, icing sugar and salt in a large bowl (or in a food processor).
Rub in the cold cubed butter until it resembles bread crumbs.
Mix together the egg yolks and water and add to the dry ingredients.
Mix in until a dough forms. It doesn't take long.
Wrap the pastry in cling wrap and refrigerate for 30 minute to allow the gluten to relax. (you can freeze the pastry at this point)
Roll out your dough on a floured surface until ¼ mm thick.
With a pizza cutter or knife cut your pastry to 3inch x 4inch rectangles. You will need 2 for each pop tarts.
Egg wash your pastry, this will help the 2 pieces stick together and give your pop tart a lovely golden color. Prick the top with a fork to release steam while baking.
Spoon the jam onto half of the pastry. Take care not to over fill or you would have a jam explosion.
Bake at 400

°

F (200

°

C) for 22-25 minutes or until golden brown.
Mix some icing sugar, vanilla extract water together until thick and spoon over the pastry. And of course finish with sprinkles.
Note: You can freeze the pop tarts raw and assembled and then bake when needed
Tencent Video (China)
We apologize for the funky subtitles, but hope it helps!
Youtube (Everywhere else)
Pop Tart Cat!
We're off to the import store to spend all our money on comfort foods…