~Introducing pop culture from around the world~
It's Double Holiday week! Happy 5,068th birthday to China… and happy mooncake [not] eating. Everyone be sure to look up at the big full moon tonight and dream about your beloved.
Now on to the list of movies for the month. Did anybody see all 13 from September? We didn't. There was just too many.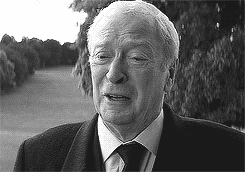 For this loveliest of Octobers, we're back down to an easy six, including ones from Thailand and Belgium, a few random ones you've never heard of, and then Kingsman 2. They'd better not censor it too much. Oh wait, they will. 😓
---
Need help buying tickets?: How To Buy Movie Tickets On Wechat
**Remember, all movies are subject to change, so if you're planning a romantic candle-lit evening, it's always smart to double-check ahead of time. TIC.
---
Friday, October 13, 2017
Bad Genius
《天才枪手》
tiān cái qiāng shǒu
aka ฉลาดเกมส์โกง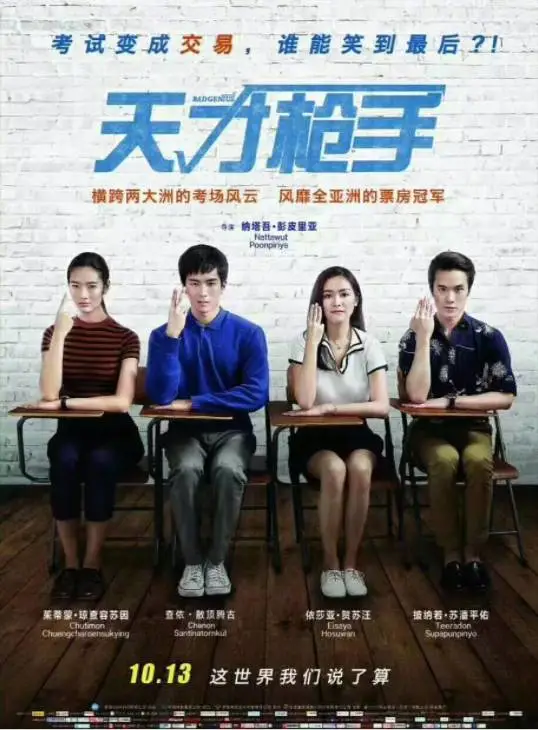 Director: Nattawut Poonpiriya
Actors: Chutimon Chuengcharoensukying, Eisaya Hosuwan, Teeradon Supapunpinyo, Chanon Santinatornkul
China Release Date: Friday, October 13, 2017
导演: 纳塔吾·彭皮里亚
主演: 茱蒂蒙·琼查容苏因 / 查侬·散顶腾古 / 依莎亚·贺苏汪 / 披纳若·苏潘平佑 / 塔内·瓦拉库努娄
中国大陆上映日期: 2017-10-13(周五)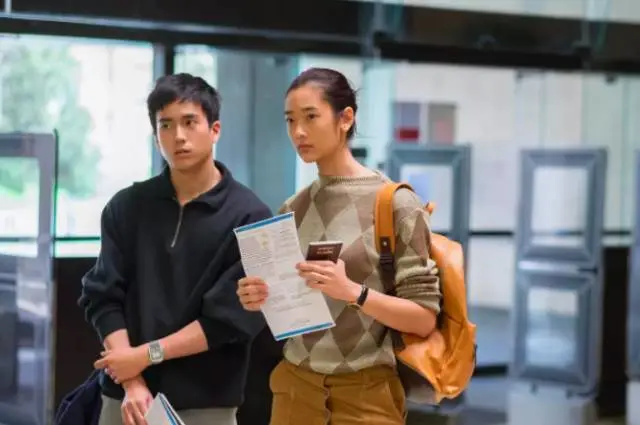 Note: It's in Thai with Chinese subtitles.
Lynn, a genius high school student who makes money by cheating tests, receives a new task that leads her to set foot on Sydney, Australia.
In order to complete the millions-Baht task, Lynn and her classmates have to finish the international STIC(SAT) exam and deliver the answers back to her friends in Thailand before the exam takes place once again in her home country.
"If you don't cheat, life will cheat you." Hmm, how relevant!
影片根据2014年轰动一时的亚洲考场作弊案改编,讲述了天才学霸利用高智商考场作弊牟取暴利的故事。出生平凡的天才少女Lynn(茱蒂蒙·琼查容苏因 饰)在进入贵族学校后,结识了富二代同学Grace(依莎亚·贺苏汪饰)与Pat(披纳若·苏潘平佑饰),从此开始了考场作弊生涯,与此同时,另一名记忆力极佳的天才学霸Bank(查侬·散顶腾古 饰)发现了Lynn不为人知的"交易"。经过多场险象环生的"作弊战争"后,Lynn接下最后一单在国际考场上为富家子弟作弊的天价委托。一场横跨两大洲的完美作弊方案横空出世,然而一切并不像他们想的那么简单……
Trailer 预告片:(中文字幕)
---
Friday, October 13, 2017
The Space Between Us
《回到火星》
huí dào huǒ xīng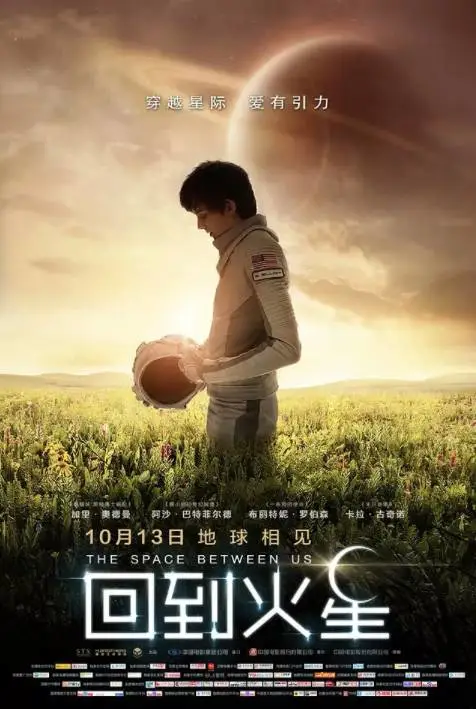 Director: Peter Chelsom
Actors: Gary Oldman, Asa Butterfield, Carla Gugino, Janet Montgomery
China Release Date: Friday, October 13, 2017
导演: 彼德·切尔瑟姆
主演: 阿萨·巴特菲尔德 / 布丽特·罗伯森 / 加里·奥德曼 / 卡拉·古奇诺 / 黄荣亮
中国大陆上映日期: 2017-10-13(周五)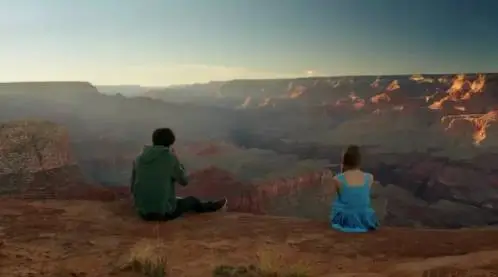 The first human born on Mars travels to Earth for the first time, experiencing the wonders of the planet through fresh eyes. He embarks on an adventure with a street smart girl to discover how he came to be.
Haven't we seen this before? Ah yes, it came out in the US in February. You've probably already downloaded this one.
火星男友Gardner(阿沙·巴特菲尔德饰)从天而降,一段关于亲情与爱情的寻觅之旅跨星际上演。16岁的火星男孩Gardner回到地球,带着对一切新奇美好的向往冲破科学家及医护人员的防护,与名叫Tulsa(布丽特妮·罗伯森饰)的地球少女,展开了一段动人心弦的历险,一起追寻自己的出生之谜,一起品尝纯真初恋……
Long press and Extract to View Trailer:



长按立即看看中文字幕的预告片
---
Saturday, October 14, 2017
The Son of Bigfoot
《我的爸爸是森林之王》
wǒ de bà bà shì sēn lín zhī wáng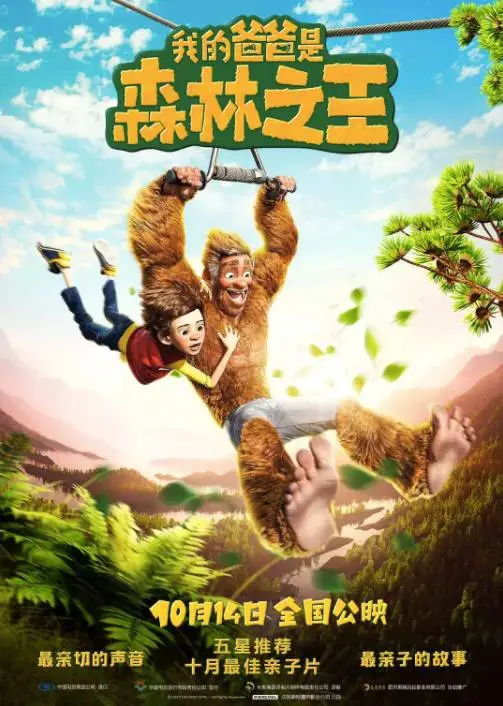 Directors: Ben Stassen, Jeremy Degruson
Actors: Cinda Adams, Bob Barlen, Cal Brunker, Joey Camen, David Epstein
China Release Date: Saturday, October 14, 2017
导演: 本·斯塔森 / Jeremy Degruson
主演: 辛达·亚当斯 / 鲍勃·巴伦 / 卡尔·布伦克尔 / 乔伊·卡门
中国大陆上映日期: 2017-10-14(周六)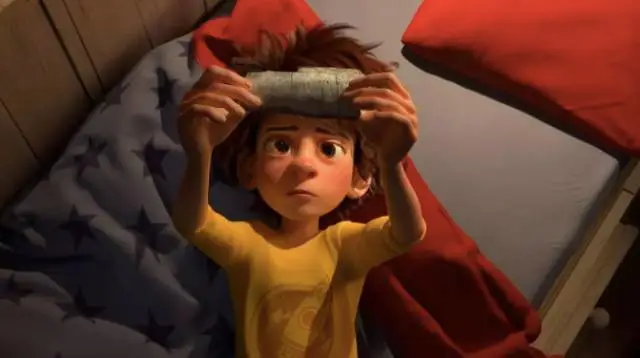 Our one cartoon for the month comes from Belgium & France… trailer is in English, but expect parts of this movie to be in French. It's all about the visuals anyways, right? The kids should still enjoy it.
Teenage outsider Adam sets out on an epic and daring quest to uncover the mystery behind his long-lost dad, only to find out that he is none other than the legendary Bigfoot! Haha
He has been hiding deep in the forest for years to protect himself and his family from HairCo., a giant corporation eager to run scientific experiments with his special DNA. As father and son start making up for lost time after the boy's initial disbelief, Adam soon discovers that he too is gifted with superpowers beyond his imagination.
亚当,一个十三岁的、不合群的男孩,为了发现父亲失踪背后的秘密,踏上了一段惊心动魄、令人难忘的征程。他很快发现他的父亲正是传说中的大脚怪,他多年来一直躲藏在森林里,以保护他自己和家人不被大型公司 HairCo. 纠缠。该公司渴望用他的特殊 DNA 进行科学实验。就当这对父子开始弥补失去的时光时,亚当很快发现自己也赋有超乎想象的超能力。但他们不知道的是,HairCo. 正沿着亚当留下的踪迹紧追过来……
Long press and Extract to View Trailer:



长按立即看看中文字幕的预告片
---
Thursday, October 19, 2017
Where Has The Time Gone
《时间去哪儿了》
shí jiān qù nǎ ér le
aka Magnificent 5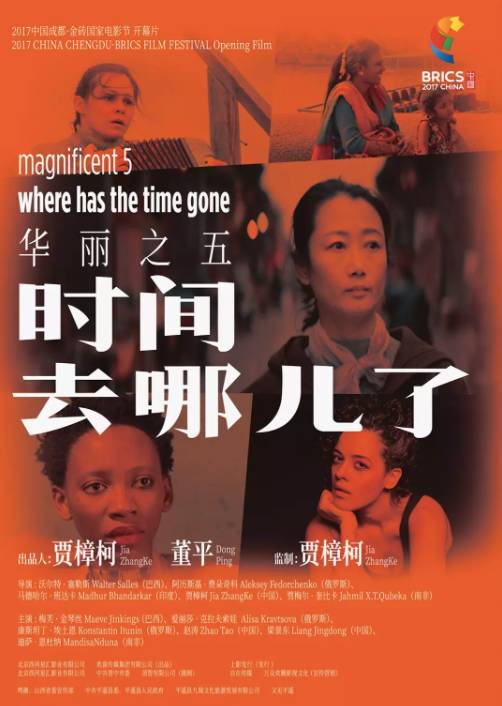 Directors: Jia Zhangke, Walter Salles, Aleksey Fedorchenko, Madhur Bhandarkar, Jahmil X.T.Quebka
Actors: Maeve Jinkings, Alisa Kravtsosa, Konstantine Inunin, Zhao Tao, Liang Jingdong, Mandisa Nduna
China Release Date: Thursday, October 19, 2017
导演: 贾樟柯 / 沃尔特·塞勒斯 / 马德哈尔·班达卡 / 贾梅尔·奎比卡 / 阿历斯基·费朵奇科
主演: 梅芙·金琴丝 / 赵涛 / 迪萨·恩杜纳 / 爱丽莎·克拉夫索娃 / 康斯坦丁·埃土恩
中国大陆上映日期: 2017-10-19(周四)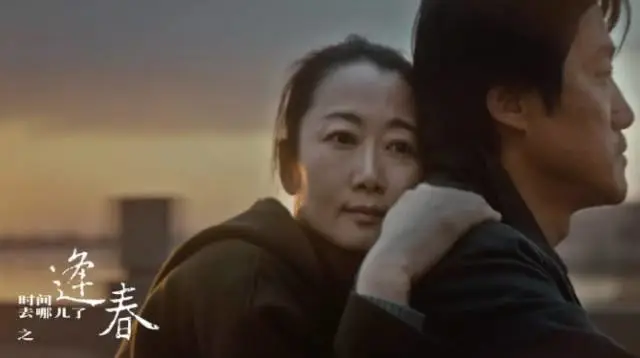 This one looks interesting. It's a 5-part multinational film revolving around the concept of "time"… it was featured at the BRICS Film Festival earlier this year, which aims to spotlight emerging talent and established filmmakers from Brazil, Russia, India, China, and South Africa.
Because it's partly from five different countries, it will be in five different languages: Portuguese, Russian, Hindi, Mandarin, and English.
The trailer has both English and Chinese subtitles, so that's promising! Hopefully the wide theatrical release will have the same.
2017金砖国家电影合作计划"华丽之五"(Magnificent 5)在第二届金砖国家电影节发布会上正式公布细节。该计划邀请来自巴西、俄罗斯、印度、中国、南非五个"金砖国家"的五位电影导演,分别以"时间去哪儿了"为主题拍摄一部电影短片,而五部独立的短片将汇集为一部片名为《时间去哪儿了》的集锦长片。
Trailer 预告片:(中文字幕)
---
Friday, October 20, 2017
Kingsman:
The Golden Circle
《王牌特工2:黄金圈》
wáng pái tè gōng èr:huáng jīn quān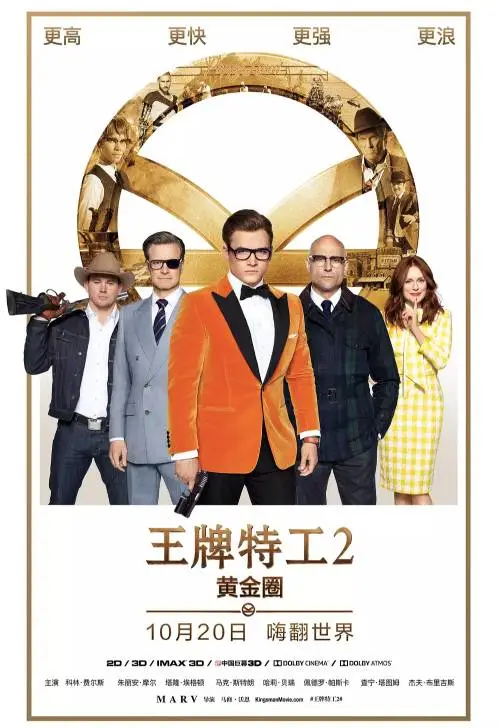 Director: Matthew Vaughn
Actors: Taron Egerton, Colin Firth, Mark Strong, Julianne Moore, Channing Tatum, Pedro Pascal, Halle Berry, Jeff Bridges
China Release Date: Friday, October 20, 2017
导演: 马修·沃恩
主演: 科林·费尔斯 / 塔伦·埃格顿 / 朱丽安·摩尔 / 马克·斯特朗 / 哈莉·贝瑞
中国大陆上映日期: 2017-10-20(周五)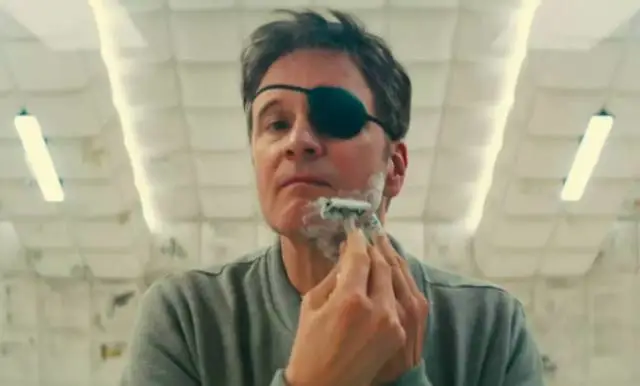 Only a month after its US/UK release, not bad; this star-studded lineup had better not disappoint.
When the Kingsman headquarters are destroyed and the world is held hostage, their journey leads them to the discovery of an allied spy organization in the US called Statesman, dating back to the day they were both founded.
In a new adventure that tests their agents' strength and wits to the limit, these two elite secret organizations band together to defeat a ruthless common enemy, in order to save the world, something that's becoming a bit of a habit for Eggsy…
All we know is that if it's anything close to the original, we're gonna have a good time.
英国秘密特工组织Kingsman的总部被摧毁,世界已经被劫持,同时,Kingsman们在美国发现了一个盟军间谍组织,这两个精英秘密组织必须团结起来,一同打败敌人。
Trailer 预告片:(中文字幕)
---
Friday, October 27, 2017
Geostorm
《全球风暴》
quán qiú fēng bào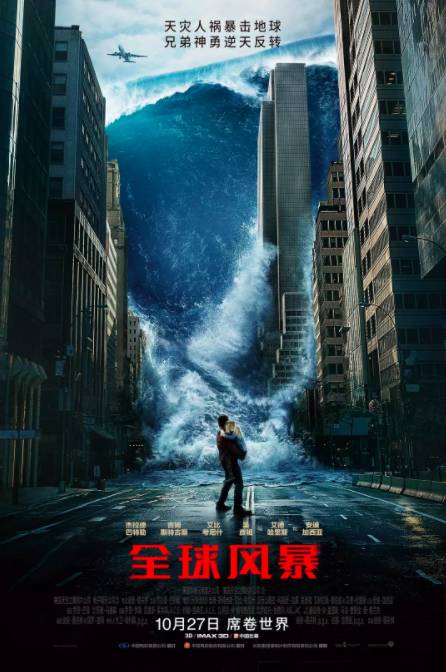 Director: Dean Devlin
Actors: Jeremy Ray Taylor, Gerard Butler, Abbie Cornish, Ed Harris, Andy Garcia
China Release Date: Friday, October 27, 2017
导演: 迪安·德夫林
主演: 杰拉德·巴特勒 / 吉姆·斯特吉斯 / 艾比·考尼什 / 安迪·加西亚 / 艾德·哈里斯
中国大陆上映日期: 2017-10-27(周五)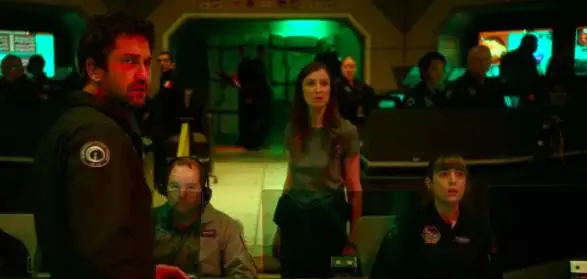 When catastrophic climate change endangers Earth's very survival, world governments unite and create the Dutch Boy Program: a world wide net of satellites, surrounding the planet, that are armed with geoengineering technologies designed to stave off the natural disasters.
After successfully protecting the planet for two years, something is starting to go wrong. Two estranged brothers are tasked with solving the program's malfunction before a world wide Geostorm can engulf the planet.
Yawn, if we have nothing better to do on Halloween weekend, we might go see this one. But probably not.
本片由杰拉德·巴特勒主演、是编剧、制作人迪安·德夫林的首部大银幕导演作品,讲述的是气象卫星产生故障带来了史无前例的风暴,与其同时,人类总统身陷暗杀阴谋的故事。
Long press and Extract to View Trailer:



长按立即看看中文字幕的预告片