We waited as long as we could to see if any more would be added… alas, we just get three this month. And two of them are cartoons.
In June, we had great variety, though! Wonder Woman and Alien were pretty great but Cars 3 got postponed till August. Did anyone even see The New Mummy? No, we didn't think so. For that, we applaud you.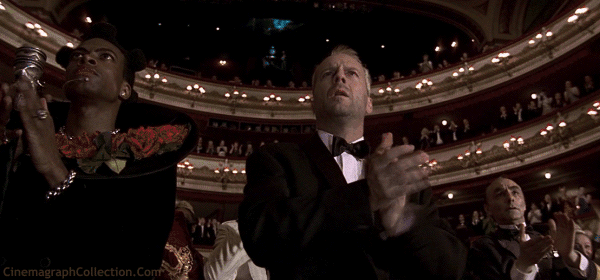 ---
Need help buying tickets?: How To Buy Movie Tickets On Wechat
**Remember, all movies are subject to change, so if you're planning a romantic candle-lit evening, it's always smart to double-check ahead of time. TIC.
---
Send a message to your local gov't official requesting more flicks for this month. And rest assured that August is shaping up to be back on track with Spider-Man, Apes, and Emojis…
As always, vote for your fave at the end!
Friday, July 7, 2017
---
Despicable Me 3
《神偷奶爸3》
shén tōu nǎi bà sān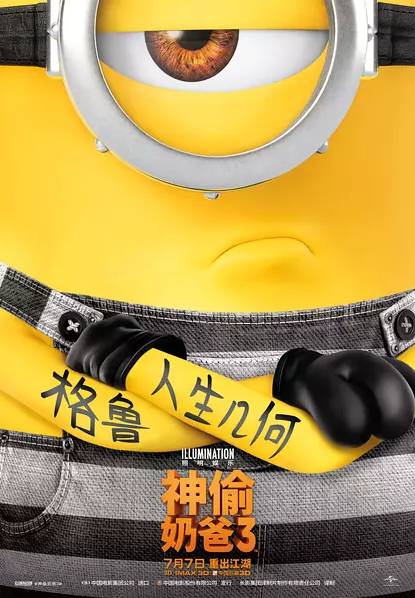 Directors: Pierre Coffin, Kyle Balda
Actors: Steve Carell, Kristen Wiig, Trey Parker, Steve Coogan, Jenny Slate, Miranda Cosgrove, Dana Galer, Nev Scharrel, and Julie Andrews
China Release Date: Friday, July 7, 2017
导演: 凯尔·巴尔达 / 皮艾尔·柯芬
主演: 史蒂夫·卡瑞尔 / 克里斯汀·韦格 / 崔·帕克 / 米兰达·卡斯格拉夫 / 拉塞尔·布兰德
中国大陆上映日期: 2017-7-07(周五)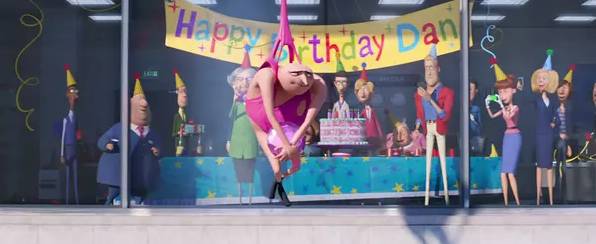 Who doesn't love the Minions?
In this tale, Gru is fired from the Anti-Villain League for failing to take down the latest bad guy to threaten humanity. He finds himself in the midst of a major identity crisis.
But when a mysterious stranger shows up to inform Gru that he has a long-lost twin brother—a brother who desperately wishes to follow in his twin's despicable footsteps—one former super-villain will rediscover just how good it feels to be bad.
《神偷奶爸3》将延续前两部的温馨、搞笑风格,聚焦格鲁和露西的婚后生活,继续讲述格鲁和三个女儿的爆笑故事。"恶棍"奶爸格鲁将会如何对付大反派巴萨扎·布莱德,调皮可爱的小黄人们又会如何耍贱卖萌,无疑让全球观众万分期待。该片配音也最大程度沿用前作阵容,史蒂夫·卡瑞尔继续为男主角格鲁配音,皮埃尔·柯芬也将继续为经典角色小黄人配音,而新角色巴萨扎·布莱德则由《南方公园》主创元老崔·帕克为其配音。
Trailer 预告片:(中文字幕)
Tuesday, July 18, 2017
---
Midnight Diner 2*
AKA 続・深夜食堂
《深夜食堂2》
shēn yè shí táng èr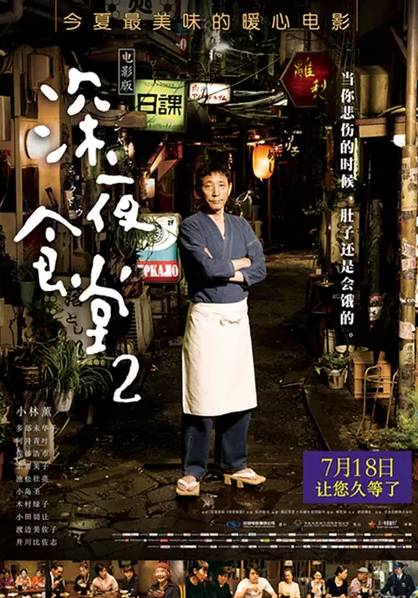 Director: Joji Matsuoka
Actors: Kaoru Kobayashi, Aoba Kawai, Koichi Sato, Sosuke Ikematsu, Midoriko Kimura
China Release Date: Tuesday, July 18, 2017
导演: 松冈锭司
主演: 小林薰 / 河井青叶 / 佐藤浩市 / 池松壮亮 / 木村绿子
中国大陆上映日期: 2017-7-18(周二)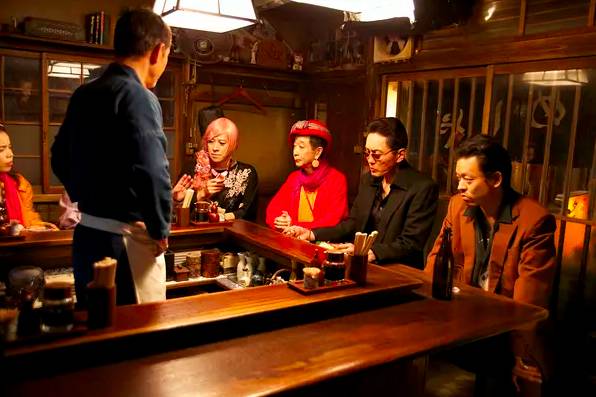 When people finish their day and hurry home, his day starts. His diner is open from midnight to seven in the morning. Pork, miso soup combo, beer, sake and shochu is all that he has on his menu. Nevertheless, he makes whatever his customers request as long as he has the ingredients for it.
*Note: it's in Japanese! But if you love food and love drama, you'd still get a kick out of this sequel. Maybe download the first one to see if you like it?
Second note, it's also an excellent TV series that you can stream online. Should be able to find English subtitles fairly easily~
《深夜食堂2》延续该系列的治愈系风格,上演着美食诱惑和一个又一个普通但耐人寻味的故事。午夜12点"深夜食堂"开始营业,老板(小林薰饰)沉默可亲、厨艺精湛。这间充满人情味的小店成为大家觅食聚会、憩息畅谈的避风港。心情低落时就会穿"丧服"减压的赤冢范子(河井青叶 饰)接连遭遇了工作和感情双重打击;高木清太(池松壮亮饰)爱上比自己大十几岁的女人而与母亲发生冲突;老太太小川夕起子(渡边美佐子饰)始终无法走出抛夫弃子的阴影,在第一部中受食堂老板恩惠的小满(多部未华子饰)收留老太太却不被理解,警察小暮(小田切让饰)一如既往地维护着街区的平静……他们将如何解开心结,走出困境,"深夜食堂"在灯火阑珊中见证着一切。
Trailer 预告片:(中文字幕)
Friday, July 21, 2017
---
Fantastic Journey to Oz*
AKA Урфин Джюс и его деревянные солдаты
《绿野仙踪之
奥兹国奇幻之旅》
lǜ yě xiān zōng zhī 
ào zī guó qí huàn zhī lǚ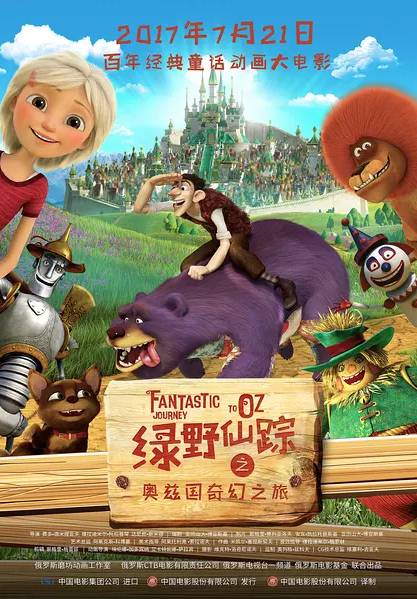 Directors: Vladimir Toropchin, Fyodor Dmitriev, Darina Shmidt
Actors: Dmitriy Dyuzhev, Konstantin Khabenskiy, Sergey Shnurov
China Release Date: Friday, July 21, 2017
导演: 费多·德米提亚夫 / 达尼那·斯米德 / 维拉迪米尔·托拉普琴
主演: Dmitriy Dyuzhev / 康斯坦丁·哈宾斯基 / Sergey Shnurov
中国大陆上映日期: 2017-7-21(周五)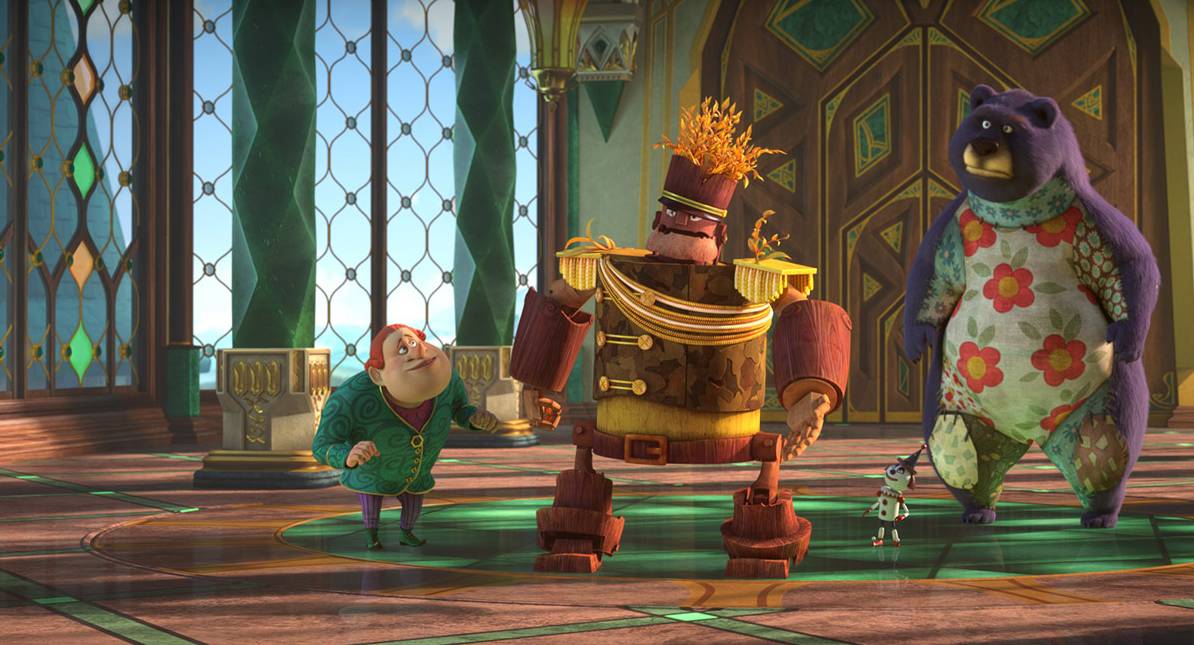 The cunning and wicked Urfin wants to become ruler of Magic Land. With an army of wooden soldiers, he captures the Emerald City and renames it ti Urfinville. He is all but ready to celebrate victory, when his plans are ruined by an ordinary girl named Dorothy, who arrives in Magic Land just at the right time. She must return home, but not before she helps her friends – the Scarecrow, the Tin Man, and new-brave Lion – defeat Urfin. And in order to do that, they need to find out who he really is.
Sound familiar? Yep. The kids will love it.
*Note: It's probably in Russian! Although the trailer below is in English, its movie page says it will be played in Russian in Mainland China. If you can read simple Chinese, you should be able to catch on what's happening from the subtitles…
狡猾且诡计多端的Urfin发现了一种神奇的魔法粉,这种魔法粉可以赋予任何事物以生命。Urfin由此制造了听命于自己的木头人士兵队,并凭借庞大的军队统治了翡翠城。但是一个名叫Dorothy的女孩也在这时来到了翡翠城。她要帮助她的朋友们——稻草人、铁皮人和狮子,打败邪恶的Urfin,重建家园。
Trailer 预告片:(中文字幕)